13 mai 2007
I recently subscribed to an on-line application named LinkedIn on one of my friends advice. This free platform is made to help the people to create and keep in touch with their both personnal and business network. But it's definitely more business oriented.

By adding people to your contacts, you have access through them to their networks. Meaning for example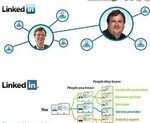 than you can reach somebody you don't know thanks to one of your colleague because they know each other. Since you're not supposed to have contacts you don't trust, it brings up some garantee within the network.

As well, by filling in my professional experience, the software find out some of my former colleagues both in Spain and Canada. So I could send them an invitation for them to be part of my network.

By looking for information on the web about LinkedIn, I found this article on a french blog. It's pushing hard but it's interesting. Many people wrote comments about the article with various point of view.

For me, this is simply a way of keeping track of people I worked with in both profesionnal or studying context. Of course, I had good experience with those people and that's why their part of my network.
Commentaires sur Are you linked In?